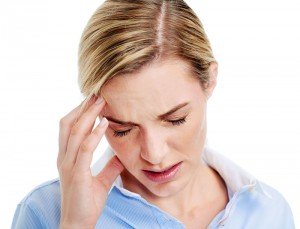 How many times did you hear, "Sit up straight!" as a child? It turns out your parents were right. Proper posture is an important component in headache prevention. The average human head weighs between 9 and 11 pounds. (1) When we slouch, there is a tendency for the head to drift forward. For every inch that your head moves forward from a neutral position, the stress on your cervical spine (neck) increases by 10 pounds. (2) According to the New York Times, adults spend an average of 8 hours per day looking at a screen. (3) That can cause significant postural stress over time.
When you sit with improper posture, it can create increased muscle tension in the neck. Chronic, prolonged poor posture leads to muscle imbalance and can lead to tension headaches. Tension headaches can have a few different presentations. The pain is usually felt all over the head, but can also occur on one side of the head or at the base of the skull. The intensity of the pain is usually mild to moderate. The neck can also feel achy or tense, typically on one side. (4)
A Few Tips for Proper Seated Posture (5)
Keep your feet flat on the floor
Shoulders should be upright and back
Your head should be lined up over your shoulders – Do not let your head drift forward
Knees should be bent at 90 degrees
Do not cross your legs
If working on a computer or tablet, have the center of the screen at eye level
How can upper cervical chiropractic help my tension headaches?
Poor posture can cause the first bone in the spine (Atlas) to misalign. When the Atlas misaligns, this leads to distortion within the spinal cord. The spinal cord is responsible for sending signals to and from the brain. When these signals are distorted (from a misalignment), it leads to muscle tension and pain. Sometimes this pain can travel and create headaches. This is a common complaint here at Back in Balance Chiropractic.
Dr. Schallmann is trained in upper cervical chiropractic, a specific chiropractic technique designed to detect and gently correct Atlas misalignments. When the Atlas is aligned, the spinal cord can send and receive signals normally. This can lead to a reduction in tension headache symptoms. In one study, a 23-year-old suffered from daily migraine headaches. After three months of specific Atlas care, her headache symptoms were eliminated. (6)
Are you interested in learning more about how NUCCA care can help your tension headaches?  Contact us at (425) 437-9974.
References:
Yee D. Average Human Head Weight [Internet]. Danny.oz.au. 2015 [cited 26 October 2015]. Available from: http://danny.oz.au/anthropology/notes/human-head-weight.html
Kapandji I. The physiology of the joints. Edinburgh: Churchill Livingstone; 2007.
Stelter B. Adults Spend 8 Hours a Day in Front of a Screen, Study Finds [Internet]. Nytimes.com. 2009 [cited 27 October 2015]. Available from: http://www.nytimes.com/2009/03/27/business/media/27adco.html
4. Simon H. Headaches – tension [Internet]. University of Maryland Medical Center. 2012 [cited 26 October 2015]. Available from: https://umm.edu/health/medical/reports/articles/headaches-tension
My.clevelandclinic.org. How To Improve Posture For A Healthy Back – Good Posture | Cleveland Clinic [Internet]. 2013 [cited 26 October 2015]. Available from: https://my.clevelandclinic.org/health/ns_overview/hic_Posture_for_a_Healthy_Back
Elster E. 'Upper Cervical Chiropractic Care For A Patient With Chronic Migraine Headaches With An Appendix Summarizing An Additional 100 Headache Cases'. J Vert Sub Res 2013.Aug (2003): 1019. Print.
To schedule a complimentary consultation call 425-437-9974 or just click the button below.