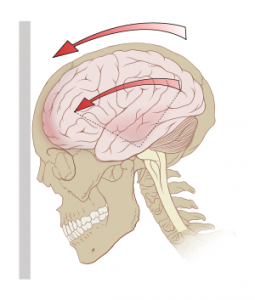 It is estimated that nearly 70 percent of young athletes with a possible concussion continue to play when they should be removed from playing, according to a federal report released in September of 2015.
According to Dr. Grant Baldwin of the Center for Disease Control, traumatic brain injuries affect almost 2.5 million Americans annually.  Currently, 5.3 million people who are living with long-term disabilities due to brain injuries cost the USA about $60 billion per year.  These disabilities include:
Noise & light sensitivity
Concentration and memory dysfunction
Irritability
Depression
Anxiety
Headaches
Dizziness
Double vision
Ringing in the ears
Insomnia
Fatigue
Sleep problems
This is a serious problem wherein most cases the patient is given medications to target the symptoms and is advised to rest, leaving the cause of the problem unaddressed.  Dr. Justin Schallmann, owner and leading clinician at Back in Balance takes a look at reversing the trauma induced to the head and neck during the injury through a specific upper cervical chiropractic technique.  This specialized technique reduces the irritation placed on the brain stem and spinal cord induced by the trauma.
Studies show that the force exhausted by a vehicle going only seven miles per hour can cause ligamentous laxity and damage to the adult neck that will lead to neurological symptoms and pain.  This small amount of force is minimal compared to the injuries young athletes have sustained in sport related activities and can be even more dangerous considering the brain is still developing. The reality is that there is no such thing as a simple concussion. That is why Dr. Schallmann has developed a detailed evaluation to determine if you are a candidate for care for this treatment!
To schedule a complimentary consultation call 425-437-9974 or just click the button below.